A sense of Community
While fellowship is a part of all ministry, Good Shepherd has several groups with a focus on community.
Bridge Group
A group of Bridge lovers who meet for dinner and a friendly game
Daughters of the King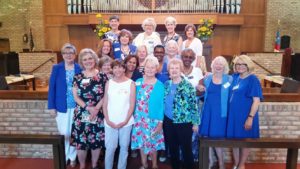 A religious order of women who pledge themselves to a lifelong program of prayer, service, and personal evangelism. We meet the 3rd Saturday of the month at 11:30 in Room 6. We would love for you to join us. interest letter 8-27(2) Read more about the Daughters of the King. For information, please contact Susan Generazio or Kathy Moore.
President: Susan Generazio
Vice President: Kathy Moore
Secretary: Arline Easley
Treasurer: Gaela Hime
Family Fun Nights
Activities on Thursday nights during the summer. Information will be available for 2018 in May.
Good Shepherd Library
A wonderful resource for the parish, offering both children's and adult books.
Good Shepherd Players
A group of those who love to perform musical theater. The Players put on a different show every spring. Learn more about this year's show
Knit & Purl for Love
This ministry meets twice a month to knit prayer shawls to help those in need of healing.
Men's Fellowship
A group of men that meet Saturday mornings over coffee and donuts
Not So High Tea
Afternoon tea for all ages on the first Thursday of the month.
Text in Community
A book club that meets monthly for dinner and discussion. Our next meeting will be Tuesday, August 8. Book TBA. Potluck supper will begin at 6:30 p.m. Questions? Contact Kathy Straight, katestr8@gmail.com.