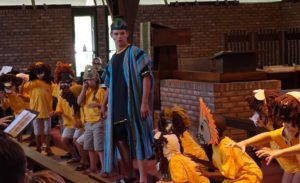 "Make a joyful noise unto the Lord!"
Click here to listen to choir performances. Click here to watch a video of the choir performing Schubert's Mass in G.
Good Shepherd has a rich tradition of choral and instrumental music, both for the congregation and for musicians from age 4 to adults. Choral music includes anthems from the great Anglican tradition and additional sources.
Choirs lead music for the 10:15 a.m. worship service, and at special services such as Advent Lessons & Carols, Christmas Eve, and Holy Week. Youth choirs participate in services at least once a month, and summer campers offer a musical sermon at the conclusion of the annual Music Camp. Bell and brass ensembles also provide special music at services throughout the year.
The adult choir presents major works with chamber orchestra each year, and invites other singers to join in the moving performances in the nave. The Church of the Good Shepherd is a member of the Royal School of Church Music America, and offers the RSCM curriculum of training to young singers in the choirs.
For a list of choir repertoire and service schedule, click here.
For more information, contact Carleen Dixon Webb, Director of Music Ministries, at 703-323-5400, ext. 107, or musicdirector@good-shepherd.net.