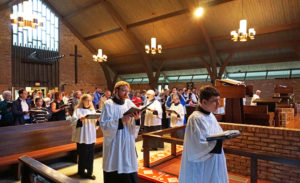 Worship Schedule:
Join us Sundays at 8:00 and 10:15 a.m., and Wednesdays at noon.
In the Episcopal Church, the principal weekly worship service is the Holy Eucharist, also known as the Lord's Supper, Holy Communion, or Mass. At Good Shepherd, all those who seek a closer relationship with God in Christ are welcome to come to the altar rail to receive communion or a blessing, no matter age or denomination.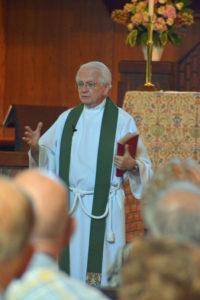 The 8 a.m. service is quieter and more contemplative. The 10:15 service includes the organ and choir with the liturgy.
Younger children will be able to go to Children's Chapel during the 10:15 service at the sermon, and rejoin their families for communion. Child care is also provided at 10:15 in the nursery, but children of every age are welcome into the worship space at all times.
Holy Eucharist is also offered on Wednesdays at noon in the Parlor. This service may be presided over by a priest or by a lay person, using pre-consecrated elements.