Good Shepherd youth and adults can explore the significant repertoire written for handbells, participate in the services, and learn from other handbell choirs. Our two handbell choirs are for beginners and advanced ringers.

Ring and Rejoice
Advanced handbells ringers play special music for services several times a year, as well as for Advent Lessons & Carols and Christmas Eve. There is an annual handbell conference.
Rehearsal: Mondays, 7 to 8:30 p.m.
Director: Walt Todenhoft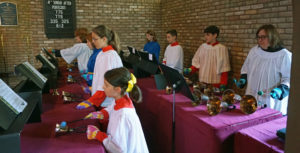 Hallelujah Handbells (Youth & beginners)
Youth and beginning ringers learn techniques of ringing. They play prelude music several times per year.
Rehearsal: Wednesdays, 5 to 5:40 p.m.
Director: Mary Helman