Summer Music Camp 2017 production of "Oh, Jonah!" featured kids of all ages.  See what fun we had here!
2018 music camp will be August 6- 10, 2018 Presented on August 12, 2018
Good Shepherd offers an extraordinary music experience to children from age 4 through high school. It includes training in the Royal School of Church Music (RSCM) curriculum, and preparation to participate in the Sunday worship service at least once a month. Rehearsals are September to May. Click here for the winter/spring 2017 schedule.
For a list of choir repertoire and service schedule, click here.
Cherubs Music  ages 4 – 1st grade
Wednesdays, 5:30-6:00
Director: Susan Todenhoft
Children and their partners (a parent, grandparent or other adult) journey together to learn to count, sing and read music  through games, movement,  songs and musical instruments. This early childhood music program will share their music on occasional Sunday mornings.
Junior Choir, grades 2 to 6
Wednesdays 5:45 to 6:45 p.m.
Director: Carleen Dixon Webb
Learn music appropriate for age, unison or 2-part. Sing for main service approximately once per month. The choir program follows the Royal School of Church Music curriculum.
Lightshine, grades 7 to 12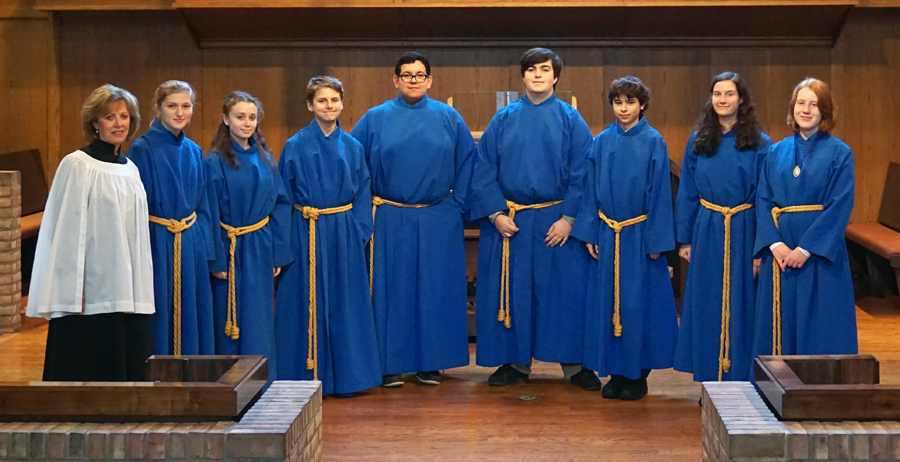 Sundays 11:15 a.m. to 12:15 p.m.
Director: Carleen Dixon Webb
Rehearse after main service, approximately twice per month. Sing for main service once or twice per month. Sing 2-, 3-, and 4-part music and sometimes participate in major work with Senior Choir.