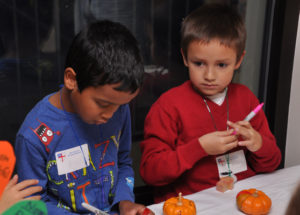 Sunday School begins September 18. Registration will be at the ministries fair following the 10:15 service on September 11.
Sunday School is held most Sundays from mid-September until June, at 9:15 a.m., between the 8 and 10:15 a.m. services. Classes are in the lower level and the Big Room. Sunday School follows various spiral-based curricula which includes stories from the Bible, hands-on crafts, and age-appropriate activities. To register your child in Sunday School, contact Keow Essig at thavaradhara@yahoo.com.
There is an active, creative Children's Chapel program during a portion of the 10:15 a.m. service. Contact Mike Essig, essigmw@gmail.com.
Please contact Keow Essig, director of Children's Christian Education at thavaradhara@yahoo.com if you have any questions.