The Vestry is thrilled to announce the calling of Rev. Christine Love Mendoza!
The Vestry of the Church of the Good Shepherd is thrilled to announce that Reverend Christine Love Mendoza has accepted the call to serve as our Rector.  She is currently Associate Rector at the Church of the Good Shepherd in Austin, Texas.   She brings experience in all phases of parish ministry as well as experience in the business world.   She is a graduate of the Seminary of the Southwest in Austin and the University of North Carolina.  A more detailed description of her background and her letter of introduction is attached below.
Christine is married to Jonathan Mendoza.   Their daughter, Emma, will be entering high school here this fall.
The Vestry would like to thank Roger Libby, Chair, and all of the members of the Search Committee for their excellent work.  After preparing a detailed Parish profile based on input from all parts of the parish, the Committee reviewed 20 applicants.  The finalists were interviewed at least twice and visited in their current parish.  After this rigorous process, the Committee unanimously agreed to recommend Reverend Mendoza.   After meeting Christine, the Search Committee's recommendation was unanimously accepted by the Vestry.
We are all excited about the future of The Church of the Good Shepherd under Christine's leadership. She brings an inspiring witness to the power of the Gospel together with exciting ideas and organizational skill.
Christine will begin her ministry with us on Sunday, September 10.
Charley Hoffman
Senior Warden
From Christine:
Dear Friends in Christ,
Grace and peace to you from God the Father and our Lord Jesus Christ! It is with thanksgiving and great joy that I accept the call to join you in ministry as your next Rector. Over the past four months, I have enjoyed getting to know you through the good folks I met on your search committee and Vestry. Your love of God, each other, and your neighbors is so bright and I believe it is this love that will serve as a much-needed beacon to others in the community. At Good Shepherd, I see a faith community that is primed and ready to launch into this next new phase of shared life together, and I rejoice in joining you in this good work.
I was raised in Chapel Hill, North Carolina, and I was introduced to The Episcopal Church at nine years of age when I accompanied a friend to junior choir practice at the Chapel of the Cross Episcopal Church. To the surprise of my parents, I joined the choir that day and fell in love with the worship of our church. Later, I attended the University of North Carolina at Chapel Hill, majoring in Religious Studies. It was in Austin, Texas, that I met and married my husband, Jonathan. Originally from Mexico City, Jonathan attended the University of Texas at Austin and pursued a career in technical writing and information design. We have been married for 18 years and we joyfully raise our daughter, Emma, a musician and artist who will start high school later this month.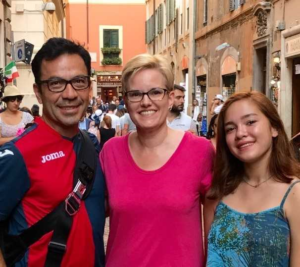 Prior to seminary, I had a career as a business analyst consultant and project manager in software development. I left that career after discerning my call to ordained ministry with the Diocese of Texas. I received my Masters of Divinity from Seminary of the Southwest and was ordained a transitional Deacon in June 2013 and Priest that following January.
Over the past five years, I have served another Good Shepherd, The Episcopal Church of the Good Shepherd in Austin, TX, overseeing areas such as liturgy, music, pastoral care, newcomer ministry, communications, and Christian formation classes. While there, I was involved in a major capital campaign and campus construction projects for this growing and vibrant parish. I rejoice that my work there will continue.
I believe strongly that the primary purpose of the church is to equip the saints for ministry. We do this when we attend to the spiritual needs of the congregation through loving pastoral care and worship that glorifies God; provide Christian formation that will create mature Christian disciples; develop the spiritual gifts of each member; create communities that reflect the kingdom of God; and seek opportunities to express our Christian faith in service to others, especially those in need and on the margins.
Paul promises us that, in Christ, all things are made new. I look forward to the new life that God has prepared for you and for me at Good Shepherd. I am excited and honored to work with Charley Hoffman, Mary Helman, and the rest of your Vestry and staff. My family and I look forward to meeting you soon and sharing your Christian journey with you.
Peace be with you,
The Rev. Christine Love Mendoza