Thanksgiving Baskets
     An annual Thanksgiving tradition at Good Shepherd is to provide complete Thanksgiving turkey dinners for the less fortunate in our community.  Signups will be Sunday, Nov. 5th, Nov. 12th and 19th. Donations of a filled basket or a partial basket are welcome.  Click here for the shopping list.  Items should be packed in a laundry basket or a sturdy box.  Drop off your basket at the church of Monday, Nov 20th between 7:00 a.m. and 5:30 p.m.  If you don't have time to shop, cash donations are accepted. Let us do the shopping for you.
Volunteers are needed throughout the day to help assemble the baskets and deliver them.  If you can help, please add your name to the sign-up list and let us know when you are available to assemble or drive.  If you have any questions, call Judy Caddell at 703-999-6226 or email Jan Wilcox at jhwilcox@aol.com.
Thanksgiving Service
Wednesday, November 22, 7:30 p.m.
Come join us as we celebrate God's goodness and the abundant blessings of our lives with a Eucharist service on Thanksgiving Eve.
November Adult Forum Series
Sundays, at 9:10a (Parish Hall)
Steven Goldman will lead a forum series on The Grand Questions of the Bible, discussing such questions as: "What is truth?" (John 18:38); "How then can man be justified with God?" (Job 25:4); "Who is my neighbor?" (Luke 10:29); and "What advantage then has the Jew, or what is the profit of circumcision?" (Romans 3:1).
Advent Lessons & Carols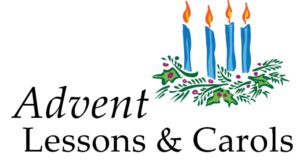 Sunday, December 3, 6:00p (Sanctuary)
Please join us for this beautiful candlelight service as we celebrate the season of Advent. Music by the choirs and bells will be featured along with Advent hymns and readings by our parish family. A festive reception will follow the service.