Celebration of New Ministry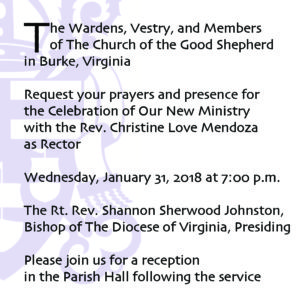 Wednesday January 31, 7:00p (Sanctuary)
Bishop Shannon will install Christine Love Mendoza as our new Rector.
Following the service of installation and Holy Eucharist, we will celebrate with a reception in Parish Hall.
Inclement Weather Policy
Daytime closings or delays follow Fairfax County Public Schools' closings.
Evenings (6:00p) and weekends follow Northern Virginia Community College.
Good Shepherd Players Presents
Joseph and the Technicolor Dream Coat
Showtimes and Ticket Prices
January 26, 2018 – 7:30pm
January 27, 2018 – 2:00pm
February 2, 2018 – 7:30pm
February 3, 2018 – 7:30pm
February 4, 2018 – 2:00pm
Adults – $15.00
Students – $10.00
Tickets available online http://www.goodshepherdplayers.com/
Concerts at Good Shepherd
February 11 2018 6:00pm
Our popular Valentine's concert features the TOWER HOUSE BAND which has been a musical force in the Washington DC metro area for many years. Most of the musicians in the band are veterans, or currently active, with the esteemed DC military bands. With a powerful horn section, tight rhythm and three fabulous singers they have a varied repertoire that is sure to get you on the dance floor! The evening will also include plenty of delicious food and drinks. Tables for eight may be reserved in advance by calling 703-323-5400. Tickets are also available at the church and online at https://www.cogs.brownpapertickets.com/.