Celebration of New Ministry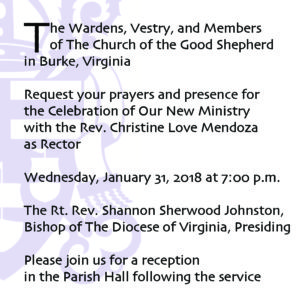 Wednesday January 31, 7:00p (Sanctuary)
Bishop Shannon will install Christine Love Mendoza as our new Rector.
Following the service of installation and Holy Eucharist, we will celebrate with a reception in Parish Hall.
Inclement Weather Policy
Daytime closings or delays follow Fairfax County Public Schools' closings.
Evenings (6:00p) and weekends follow Northern Virginia Community College.
Adult Forum Series – Sundays Starting January 21
Sunday, January 21, 9:10a (Parish Hall)
Steve Goldman will lead our next Sunday Adult Forum series called "Reading the Same Bible and Finding Different Meanings."
Annual Meeting
Sunday, January 28, 9:10a (Parish Hall)
Join us for our Annual Parish Meeting in the Parish Hall between services. Drop the children off at class and join us as we recap the past year and look forward into 2018.